406 G Street, Suite 206



historic Alaska Building
Anchorage, Alaska 99501
Telephone (907) 274-7686
Facsimile (907) 274-9493
james.b.gottstein@gottsteinlaw.com

Alaska Building, Inc.,
v.
716 West Fourth Avenue, LLC; and Legislative Affairs Agency
On September 19, 2013, 716 West Fourth Avenue LLC entered into a sole source (no-bid) agreement with the Legislative Affairs Agency to:
(a) demolish (i) the existing Anchorage Legislative Information Office down to its steel frame and (ii) the Empress Theatre building, and

(b) lease a newly constructed office building to LAA for the Anchorage Legislative Information Office on the two lots upon which the old LIO building and the Empress Theatre had been demolished
(LIO Lease).

This was purportedly authorized under AS 36.30.083, but AS 36.30.083 only allows sole source procurement of leased space to extend a real property lease for up to 10 years if a minimum cost savings of at least 10 percent below the market rental value of the real property at the time of the extension would be achieved on the rent due un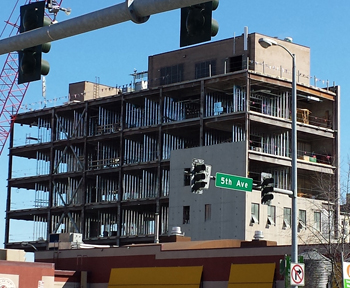 der the lease. (emphasis added).

The LIO Lease is not an extension because (1) the existing building was demolished down to its steel frame (2) the adjacent old Empress Theatre, most recently the Anchor Pub, was completely demolished, (3) a brand new building was constructed on the combined sites of the old Legislative Information Office Building and the Old Empress Theatre, and (4) the premises were vacated for at least 13 months during the demolition and while the new building was constructed. This was a new construction project not a lease extension. See, picture on the right, taken on April 20, 2014.

In addition, the cost is well over the market rental value of the real property. Comparing apples to apples, the LIO Lease rate is about $7.15 per square foot per month, while the market rate is about $3.00. Ten percent below market rate is about $2.70/square foot per month, which works out to $104,310 per month instead of the rate specified in the illegal LIO Lease of $281,638. This is $177,328 per month more than allowed under AS 36.30.083. Over the life of the LIO Lease this is $21,279,360 more than allowed under AS 36.30.083.
On March 31, 2015, Alaska Building, Inc filed a lawsuit to have the lease declared illegal and to recover for the damages the construction inflicted on the Alaska Building. On March 24, 2016, after repeated attempts to get the case thrown out of court, the Superior (trial) Court held that the lease was indeed illegal and invalid. The damages action was separated into a separate lawsuit and was settled.
.
Trial Court Documents
Standing Petition for Review
Appeal of Rule 11 Order
---
---
Other Documents
---
Media Coverage
---
last modified August 29, 2017